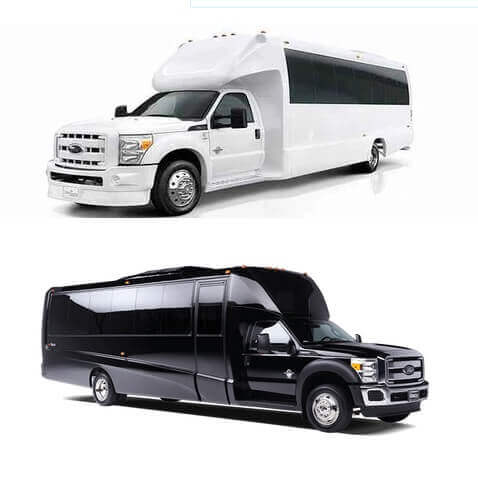 Chitown Party Bus is your #1 Chicago Party Bus!
We offer the NEWEST fleet in Chicago. Looking for a Wedding Party Bus? Get a FREE QUOTE!
Check out our "136"  5-STAR  REVIEWS!
We also have the perfect limo for your every need, including Proms, Weddings, Birthdays, and Tailgates.
Make Your PARTY Extra Special with CHITOWN PARTY BUS!
Experience Chicagoland in one of our NEW Party and Limo Buses! We are Chicago #1 Party Bus Company.  With over 136 FIVE-STAR REVIEWS(LINK). We have over 11-years in the industry and fully licensed with the City of Chicago and USDOT. #Trusted
Make plans to reserve a Chicago party bus rental as we provide you with transportation to some of the most popular HOT-SPOTS throughout the city.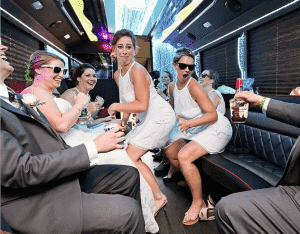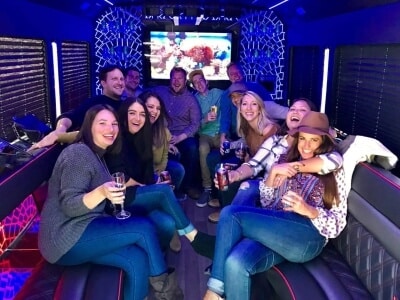 Make Your Wedding Day Extra Special With Chitown Party Bus
Stunning wedding party celebrations around Chicagoland.  The perfect transportation to and from the wedding ceremony and reception. Don't get stuck on the side of the road using another company with 10-year-old buses.
Above all safety is our number one priority. Let us handle the driving, so your group can enjoy the night with our 2019 and 2020 FLEET.
Rolling up to your High School Prom in a ChiTown Party Bus or Limousine is a senior's last chance to truly enjoy themselves.  It is also a great way to ensure you have a safe and fun prom night. Make it a night that will last forever in memories!
Limousines and Party Buses in Chicago enhance an evening by adding style and comfort, creating a party for a student and a group of their friends.
We are RANKED #1 for  Party Bus Rentals in Chicago. Trust our 136 FIVE STAR Reviews!
​Looking for the ultimate party bus experience in Chicago? Look no further than Chitown Party Bus! We offer top-notch party bus rentals in Chicago and cater to all your party needs. Whether it's a birthday celebration, a bachelor or bachelorette party, a prom night, or a corporate event, our Chicago party bus rental service has you covered. With our luxurious and affordable party buses, equipped with state-of-the-art amenities like dance floors, sound systems, LED lights, and flat-screen TVs, you'll be partying in style as you explore the vibrant city of Chicago. Our professional and experienced chauffeurs will ensure a safe and memorable journey, making us the top-rated party bus company in Chicago. Book your party bus rental in Chicago with Chitown Party Bus today and experience the best that the Windy City has to offer!
Frequently Asked Questions - 
1. What is a Party Bus? A party bus is a specially designed vehicle that offers a fun and luxurious transportation experience for parties and events. It features amenities such as comfortable seating, sound systems, lighting, and entertainment options to enhance the party atmosphere.
2. How much does it cost to rent? The cost of renting a party bus in Chicago varies depending on factors such as the size of the bus, duration of rental, and specific amenities included. To get an accurate quote, please contact us directly for a customized pricing package. REQUEST A FREE QUOTE
3. What occasions are suitable? Birthdays, bachelor/bachelorette parties, prom nights, corporate events, weddings, and even sightseeing tours. Whatever the celebration, a party bus adds a unique touch of luxury and convenience.
4. How many people can you accommodate? Our vechicles different sizes and can accommodate varying group sizes. Our fleet includes buses that can seat anywhere from 12 - 30 passengers, ensuring there's an option suitable for your specific needs.
5. Are food and drinks allowed? Yes, you are welcome to bring your own food and beverages on board. However, please note that some restrictions may apply, such as no glass containers or underage drinking. Contact us for more details on our policies. NO SMOKING!
6. Is alcohol allowed on Chicago Party Bus? Alcohol is allowed for passengers of legal drinking age. However, we strictly enforce responsible drinking and comply with all local laws and regulations regarding alcohol consumption. Please drink responsibly and ensure the safety and comfort of all passengers.
7. Can I play my own music? Absolutely! Our vechicles are equipped with high-quality sound systems that allow you to connect your own devices via Bluetooth, USB, or auxiliary cable. You can create your own party playlist and enjoy your favorite tunes throughout the ride.
8. How do I make a reservation? Making a reservation is easy! Simply contact our customer service team either by phone or through our online booking form. Provide us with the details of your event, including date, time, number of passengers, and any specific requirements, and we will assist you in securing your reservation. REQUEST A FREE QUOTE NOW
9. What is your cancellation policy? Our cancellation policy may vary depending on the specific circumstances. We strive to be flexible and accommodate our customers' needs. Please contact our team as soon as possible if you need to cancel or reschedule your reservation, and we will do our best to assist you.
947 W Van Buren St, Chicago, IL 60607